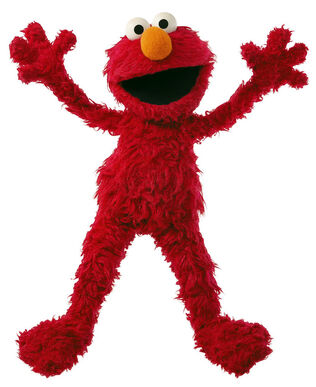 The character is self-described as 3-and-a-half years old, and refers to himself almost entirely in the third person.[2]As with many children of his age, he is seen somewhat infrequently with a favorite toy of his: an orange monster-like doll named David. Elmo lives in an apartment onSesame Street with his mom Mae, his dad Louie, and, in some storybooks, a sister named Daisy.
The puppet that would eventually become Elmo has been around since the early 1970s. During this time, he was referred to as Baby Monster, and had a number of performers ranging from Caroll Spinney[3] to Jerry Nelson[4] for background scenes. Elmo first appeared onSesame Street specifically as "Elmo" in Season 12[5]where he was performed by Brian Muehl. After Muehl's departure in 1984, the character was re-cast to Richard Hunt. After performing Elmo for a couple of episodes,[6]Hunt literally tossed him over to Kevin Clash, since Clash was the only other person in the Muppeteer lounge at the time[7] (though Noel MacNeal has said that he was in the room as well).[8] Around that time, writer David Korr took a liking to the character, and backed up with the positive research, started using it regularly.[7]
Kermit Love felt he knew part of the character's reason for success: "Elmo is popular because Elmo is red."[9]
There are either eight or nine Elmo puppets currently available. Kevin Clash told Channel Newsasia that "this one [on my lap] is rodded. There's a full radio-controlled Elmo, there's one for the blue screen, etc. They do different things."[10] In later years, there has been a live-hand variant of Elmo, used in episodes like episode 4206and specials like Elmo's World: Happy Holidays!
Additionally, dozens of Elmo variants have been created by the Muppet Workshop (now, Jim Henson's Puppet Workshop) almost exclusively for use in Tickle Me Landas figments of Dorothy's imagination. These creations build on the basic premise of the Elmo puppet, to create a unique design which displays a variation of Elmo as anything from a rock to an elephant, to even a male doctor and female nurse.
Elmo tweeted about his third person speaking in March 2010; "Someone just told Elmo yesterday was Talk in Third Person Day. Elmo doesn't know what that is but it sounds fun. Can Elmo play?"
At another screening at the Museum for the Moving Image, Elmo was asked what it was like to work with Richard Hunt, to huge response from the audience. He recollected "It was TORTURE! ...Elmo doesn't like opera! Elmo doesn't like tuna fish sandwiches and Schweppes Ginger Ale. Elmo doesn't like any of those things! But for some reason, when he was working Elmo, Elmo was motivated to love those things."[11]
Sesame Street:
The Muppets: